WordPress transfer is a common requirement for website owners worldwide. As the leading CMS platform, WordPress caters to millions of businesses, bloggers, and digital agencies. A diverse array of websites, from simple blogs to complex eCommerce stores, utilize WordPress's robust features and easy-to-use interface.
The dynamic nature of the digital world often necessitates website migration. For example, businesses outgrow their existing hosting plans and seek more powerful options. Individuals may desire to move their WordPress site to a new domain that better aligns with their personal brand or blogging niche. Digital agencies might need to migrate WordPress websites to a client's server once they've completed designing and developing it.
Whatever the reason, the transfer of a WordPress site can seem daunting, especially for those with limited technical knowledge. This process involves moving all the website's components—files, database, plugins, themes—to a new location without any data loss or downtime.
Here's where WordPress transfer plugins come to the rescue. These specialized plugins are designed to streamline and simplify the process of website migration. They help package all your website's data, move it to the new location, and unpack it, ensuring your website functions smoothly post-transfer.
In this article, we will take a comprehensive look at the top 5 plugins specifically designed to transfer WordPress sites. Our goal is to equip you with all the information you need to choose the plugin that best suits your unique migration needs. Each plugin will be evaluated based on its features, ease of use, and pros and cons.
Read on for an in-depth review of these remarkable tools that can make your WordPress transfer a smooth, trouble-free experience.
1. All-in-One WP Migration
All-in-One WP Migration is a heavyweight champion when it comes to WordPress transfer. It has earned its place in the WordPress community due to its simplicity, reliability, and the comprehensive nature of its features.
Primarily, All-in-One WP Migration is designed with ease of use in mind. Its interface is straightforward, with clear steps that guide users through the migration process. This makes it a popular choice for WordPress beginners, as well as seasoned professionals who value efficiency.
One of the unique selling points of All-in-One WP Migration is its ability to bypass upload size limits. It achieves this by breaking down your website's data into smaller chunks, facilitating the transfer without overwhelming your server. This feature can be a lifesaver when dealing with large websites.
In addition to moving your core WordPress files and database, the plugin can also transfer your themes, plugins, and media uploads, ensuring a complete migration. It also takes care of serialization problems and includes find/replace functionality for handling domain-related changes in the database.
Pros:
User-friendly interface (Easy to use)
Bypasses upload size restrictions
Comprehensive migration capabilities
Wide compatibility
Cons:
Site size limit on the free version
May lack advanced features for experienced users
Overall, All-in-One WP Migration stands as a reliable option to migrate WordPress website from one server to another for users of all levels of expertise. Whether you're a novice hoping to navigate your first WordPress transfer or an experienced developer looking for a time-efficient solution, this plugin is worth considering.
2. Duplicator – WordPress Migration Plugin
When it comes to WordPress migration, Duplicator – WordPress Migration Plugin is another well-recognized name. This robust plugin has carved out a strong reputation for its reliability, flexibility, and comprehensive migration features.
Duplicator operates a little differently from other plugins. Rather than simply exporting your data, it creates a 'package' that includes your entire website (themes, plugins, content, and database). This process essentially builds a clone of your original site, which can be unpacked and installed on a new location. The result is a flawless copy of your site, making it a useful tool not only for migration but also for site backups and testing.
One of Duplicator's significant advantages is its zero-downtime migration capability. Even during the transfer process, your original site remains operational, ensuring there is no disruption to your online presence. This feature is particularly important for businesses that cannot afford any downtime.
Pros:
Comprehensive site duplication
Zero downtime during migration
Manual migration option
Supports serialized data.
Packages can be downloaded and manually migrated if needed.
Cons:
The setup process might be a bit complex for beginners.
The free version lacks scheduled backups.
Extra steps required in migration process
While Duplicator's learning curve might be steeper, its robust and flexible features make it a worthwhile option. For those willing to explore its functionalities, it can be an exceptional tool for WordPress transfer, backups, and site duplication.
3. UpdraftPlus WordPress Backup Plugin
UpdraftPlus is more than just a WordPress backup plugin. It's an incredibly versatile tool that offers not only robust backup capabilities but also efficient and straightforward WordPress transfer functionalities. Trusted by millions of WordPress website owners, UpdraftPlus is a heavyweight in the WordPress plugin market.
One of the distinguishing features of UpdraftPlus is its flexibility when it comes to backup and restore options. It allows you to backup and restore your entire site, including all databases, files, themes, and plugins, directly from your WordPress control panel. You can also choose to backup or restore specific parts of your site, which provides significant control over your migration process.
Another powerful feature of UpdraftPlus is its integration with multiple cloud storage services. You can choose to store your backups on your server, or on a remote location like Dropbox, Google Drive, Amazon S3, UpdraftVault, Rackspace Cloud, FTP, DreamObjects, Openstack Swift, and even email. This variety of options ensures you can store your backups where they suit you best, offering an extra layer of security.
The premium version of UpdraftPlus also includes a Migrator feature. With this, you can clone your website and database to a new location with a single click, making the WordPress transfer process extremely smooth.
Pros:
Allows automated and scheduled backups.
Supports multisite/multi-network compatibility.
Integration with multiple cloud storage services
Comes with encrypted transport to new location.
One-click site cloning with premium version
Cons:
Migrator feature not available in free version
Premium version might be necessary for frequent migrations
Can be a bit complex for beginners.
The flexibility, power, and security of UpdraftPlus make it an excellent choice for anyone seeking an efficient way to migrate WordPress websites. The extensive cloud integration further boosts its usability, making it a valuable asset for managing and migrating WordPress sites.
4. Migrate Guru: Migrate & Clone WordPress Free
Migrate Guru is a standout in the WordPress plugin market, offering a powerful, uncomplicated way to migrate WordPress websites. It was designed and developed by the team behind BlogVault, a popular WordPress backup service, and this pedigree shines through in the reliability and robustness of the tool.
With Migrate Guru, you can seamlessly transfer your WordPress site to a new host without dealing with overwhelming technical procedures. The plugin takes care of all the complexities involved in the migration process, reducing the risk of errors and making the whole procedure easier and faster.
One of Migrate Guru's best features is its real-time alerts. These keep you informed of the migration process every step of the way, ensuring you're never left in the dark about the status of your website transfer. This is particularly beneficial when managing larger websites, where the migration process can take a while to complete.
Additionally, Migrate Guru offers true one-click migration. Simply enter your destination site details, and the plugin will take care of the rest. It's designed to work with all major web hosts, providing you with flexibility when choosing your hosting service.
However, it's worth noting that Migrate Guru does not provide a backup feature. For a comprehensive transfer, you might need to use another plugin for backup purposes.
Pros:
Uses automatic search-replace.
Runs on Migrate Guru's servers, reducing the load on your site.
Real-time alerts keep you informed about the migration status
One-click migration for easy transfer
Compatibility with all major web hosts
Cons:
Cannot migrate localhost websites.
Doesn't support multisite networks.
Does not include a backup feature
Additional backup plugin might be needed for a full transfer
Migrate Guru's simplicity, combined with its powerful features, makes it an attractive option for WordPress users. The real-time alerts and one-click migration functionality allow for a stress-free, streamlined WordPress transfer process. But remember, you'll need to sort your backup arrangements separately to ensure a secure migration.
5. WP Migrate DB – WordPress Migration Made Easy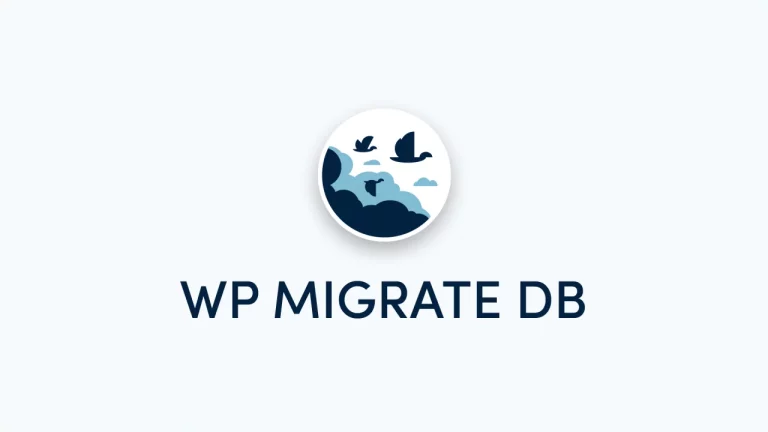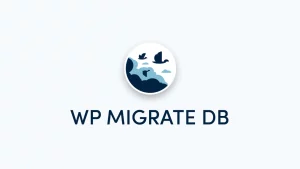 WP Migrate DB simplifies the process of migrating your WordPress database from one install to another, living up to its tagline: 'WordPress Migration Made Easy'. Built by Delicious Brains, a team known for developing high-quality WordPress plugins, this tool offers a robust solution to a common WordPress problem.
The primary strength of WP Migrate DB lies in its ability to handle serialized data. WordPress stores data such as widget settings and theme options in a serialized format, which can pose problems during migration. WP Migrate DB effectively handles serialized data, ensuring that your website's settings are migrated correctly.
In addition, WP Migrate DB allows users to 'find and replace' data during the migration. This means you can quickly and easily change URLs, file paths, or other data in your database as you move it from one install to another. It's a valuable feature that reduces the amount of manual work you have to do after the migration.
The plugin also has a Pro version that offers features such as push and pull your database, media files, theme files, and plugins directly between two sites, as well as a backup option. The Pro version also provides support, something you might need during complex migrations.
Pros:
Works well with large databases.
Can be used to push and pull databases.
Simplifies the process of changing paths and URLs for a new domain.
Handles serialized data effectively
Provides a 'find and replace' function
Pro version offers advanced features and support
Cons:
Only migrates the database, not files
Some features are locked behind a premium version
Basic version lacks some essential features
The free version doesn't support files transfer
WP Migrate DB fills a niche in the WordPress transfer landscape, offering advanced functionality for database migration. Its ability to handle serialized data and the convenient 'find and replace' function make it a valuable tool for any WordPress user planning a migration. The Pro version brings additional features, which are well worth considering if you're dealing with a complex transfer.
Conclusion: Picking the Best WordPress Transfer Plugin
In conclusion, each of the plugins discussed here have their strengths, and the best one for you largely depends on your specific needs and circumstances.
All-in-One WP Migration offers a wide range of features and compatibility with most hosts, making it a solid all-rounder. Duplicator is a strong contender with its user-friendly interface and comprehensive feature set. UpdraftPlus is a reliable and robust solution, which also covers your website's backup needs.
Migrate Guru stands out for its seamless operation and capacity to handle large websites. However, if you're looking for a solution particularly catered towards database migration, WP Migrate DB should be your go-to option, especially with its strong handling of serialized data and its 'find and replace' function.
The best WordPress transfer plugin
After reviewing all of these options, we would recommend All-in-One WP Migration as the best overall plugin to migrate WordPress site. It covers all the bases, making it a great choice for both beginners and advanced users. Its compatibility with most hosting providers ensures that you won't run into hosting-related issues during the migration process. Moreover, its ability to bypass upload size restrictions comes in handy when you have a larger site to migrate.
However, no tool can replace the expertise and comprehensive service offered by a dedicated website migration service like Transfer Website to migrate WordPress. With professional assistance, you can mitigate the risks associated with transferring your WordPress site, ensuring a smooth and successful migration.
Remember, your WordPress website is an important asset, and its migration is not something to be taken lightly. Choose WordPress migration plugin or service carefully, keeping your website's unique needs in mind, to ensure a hassle-free and successful transfer.